Elderberry Syrup 8 oz- Now SHIPS!
$

18.00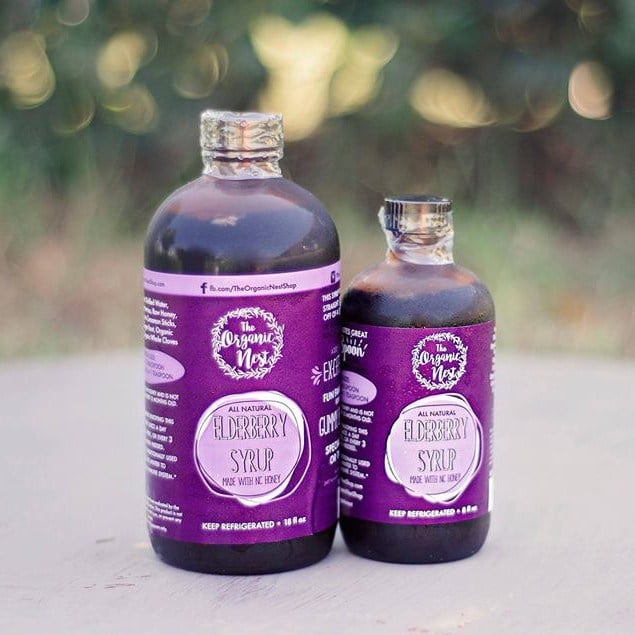 We are now offering our Elderberry Syrup for shipping! Our syrup uses fresh frozen berries which make the product incredibly juicy.  We also use fresh ginger, and whole spices only.  We feel like this makes a huge difference in  the texture and flavor of our syrup and are happy to ship it to you.
This item ships free! Please put it into the fridge as soon as you receive it.  It is stable enough to ship without ice packs, but cannot be stored at room temp once you receive it.
They are typically made the same week they ship, and expire 4 months from manufacture date.
SHIPS ONLY ON MONDAYS AND TUESDAYS, USPS Priority
Made from organic berries & spices, with raw local honey. Keep refrigerated.
Ingredients:
Distilled water, raw local wildflower honey
Organic: elderberry, star anise, Ceylon cinnamon sticks, fresh ginger, whole cloves
This contains honey, do not give to children under 12 months old
If you have an auto immune disease, are pregnant or nursing, or using any prescription medicines - please talk to your doctor or herbalist before taking elderberry.
ABOUT ELDERBERRY
We make our elderberry syrup with fresh frozen organic berries, this adds a ton of real juice to our product. It has a taste somewhere between a raisin and cranberry spice. We add local raw honey and plenty of awesome herbal spices.  It tastes good enough to eat straight from a spoon, but can also be added to water, juice, smoothies, pancakes, and other goodies. Make elderberry syrup a fun time in your home: come up with a fun family name like Gummy Bear Juice, Sorcery Syrup, The Sizzurp, Yummy Nummies. Or use a fun spoon, shot glass, or other tiny container so it is something to look forward to.
Children take ½ to 1 teaspoon
Adults take ½ to 1 Tablespoon
We recommend enjoying this tasty treat 4-5 days a week
As needed, take every 3 hours
Our syrup is made in our personal commercial kitchen and inspected by the NCDA. Made in a space that handles peanuts, almonds, and flour. On SEPARATE dedicated equipment. And on separate days.
We want every part of making this to be how you would want it to be for YOUR family. We don't cut corners, costs, or the time involved. We have dedicated tools, pots, sanitation and cleaning equipment that are not used for anything other than syrup.  All bottles are sterilized with dry heat before bottling the syrup. We do not use aluminum pots, bowls, spoons, or measuring cups. We do use stainless steel, and European grade silicone. It is made fresh every single week, and you have 4 months to use the syrup by the best by date.
*For educational purposes only. This information has not been evaluated by the Food and Drug Administration. This information is not intended to diagnose, treat, cure, or prevent any disease.*